Well, if you are just one unlucky son of a bÑ–tch, and someone smashed out your front window to loot your car (My situation), you accidentally broke your own window (Mowing the lawn, run over a rock, shoots out the side, whacks the window, seen that before with house windows...), removing the window to service the power window system, or you are removing a window to tint then reinstall. Whatever the reasons, this'll help get the tutorial should help.
First off, tools needed:
1. Philips screwdriver (A stubby one, and a longer one)
2. A prick punch is what I used to punch out the rivets. This worked for me:
http://www.craftsman...02_00942841000P
3. Hammer
4. 1/4 Drill bit that'll drill metal
5. A good drill (Corded or cordless, upto you and your work environment)
6. A Piece of wood
7. A friend will make the job much easier.
Supplies Needed: bolts and nylon locking nuts. (If you do not have access to the nice rivet system)
Obtained from AutoZone: 1/4"-20 x 3/4" - Need two per window.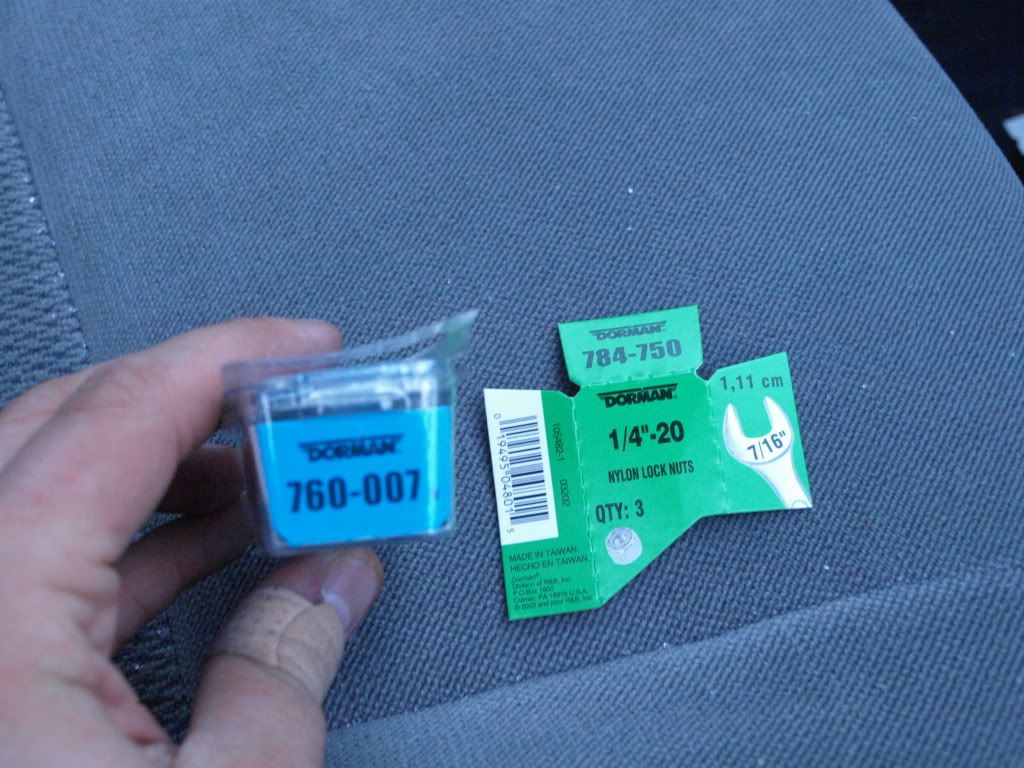 Step 1. Remove door panel, using the screwdrivers. All screws are visible. 1 is a bit hidden between door and body where they connect. Refer to a howto on removing door panels for those unfamiliar.
Step 2. Remove the window molding from inside door: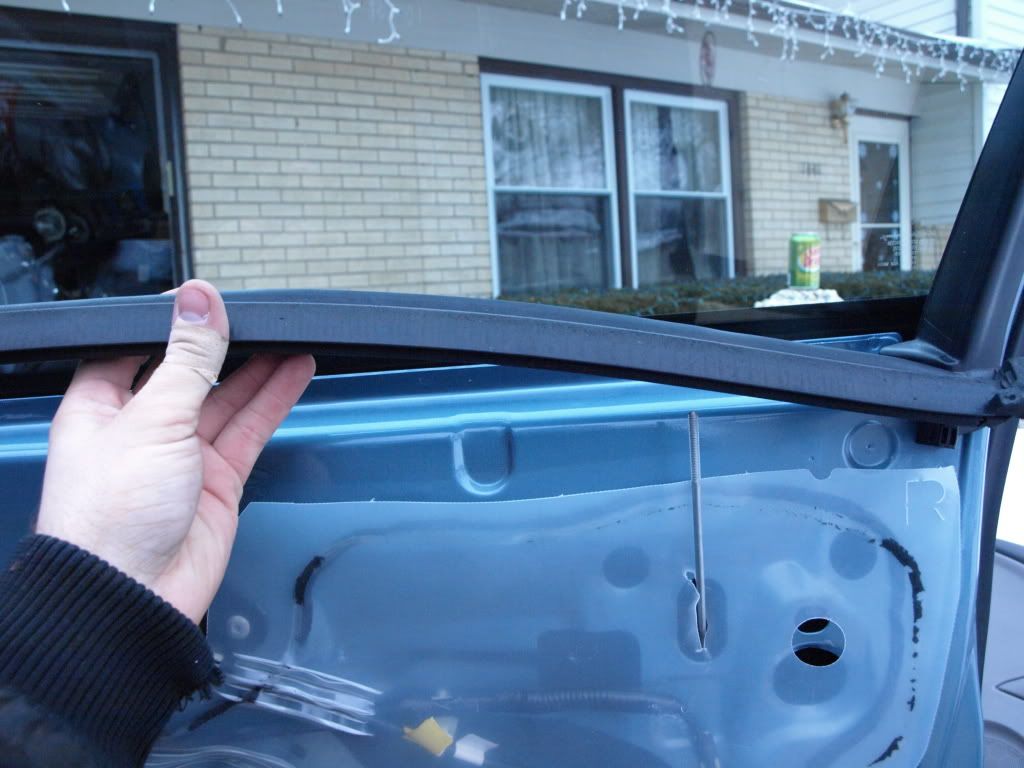 Step 3. Lower window (This will require having window switches installed) so that rivets can be seen though both holes, as shown on Passenger door, driver door very similar: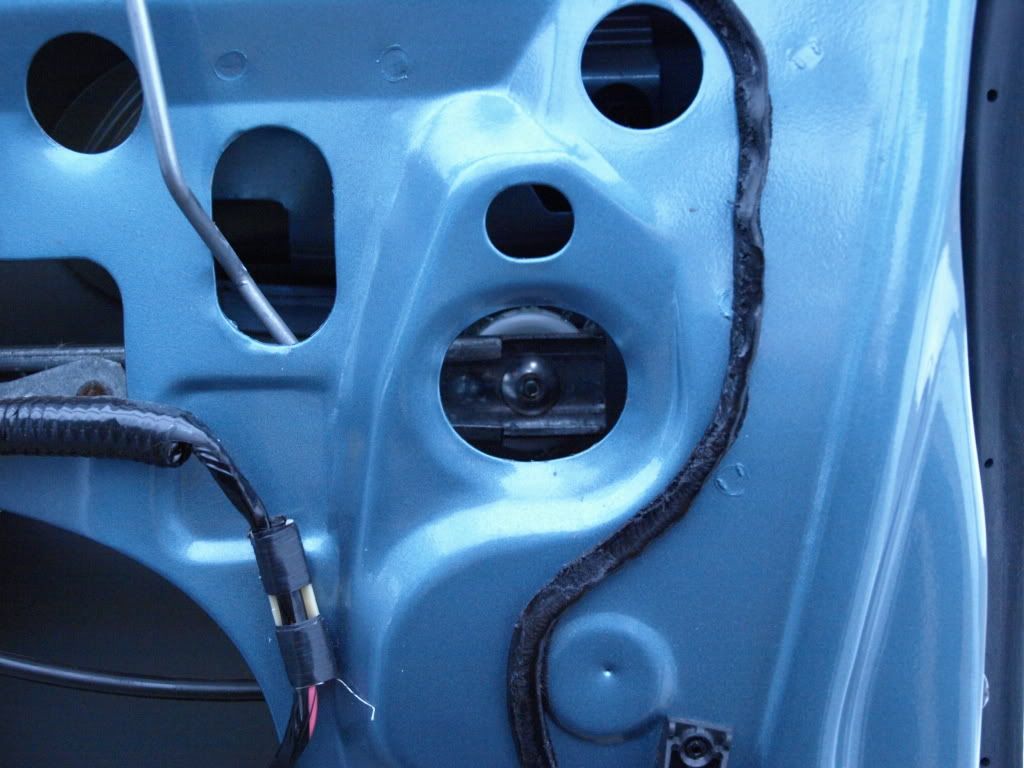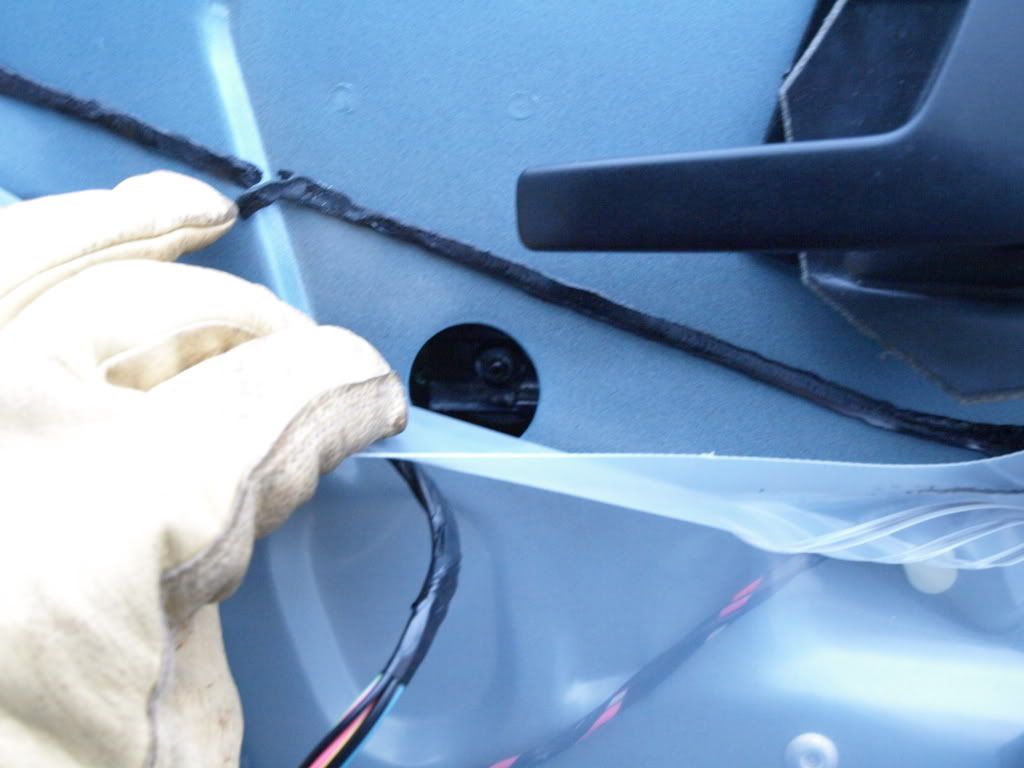 Step 4. Take block of wood, and shove it under the door to support the track that has both the rivets, put it on the side you are about to punch out. If you are removing a window that still exists, I would recommend putting some tape to secure the window, or have the friend hold window and door. Hard to see in photo, the wood is supporting the back. The prick punch is dead center on rivet. Hammer cautiously. Use caution not to shatter window if removing old window, do for both sides.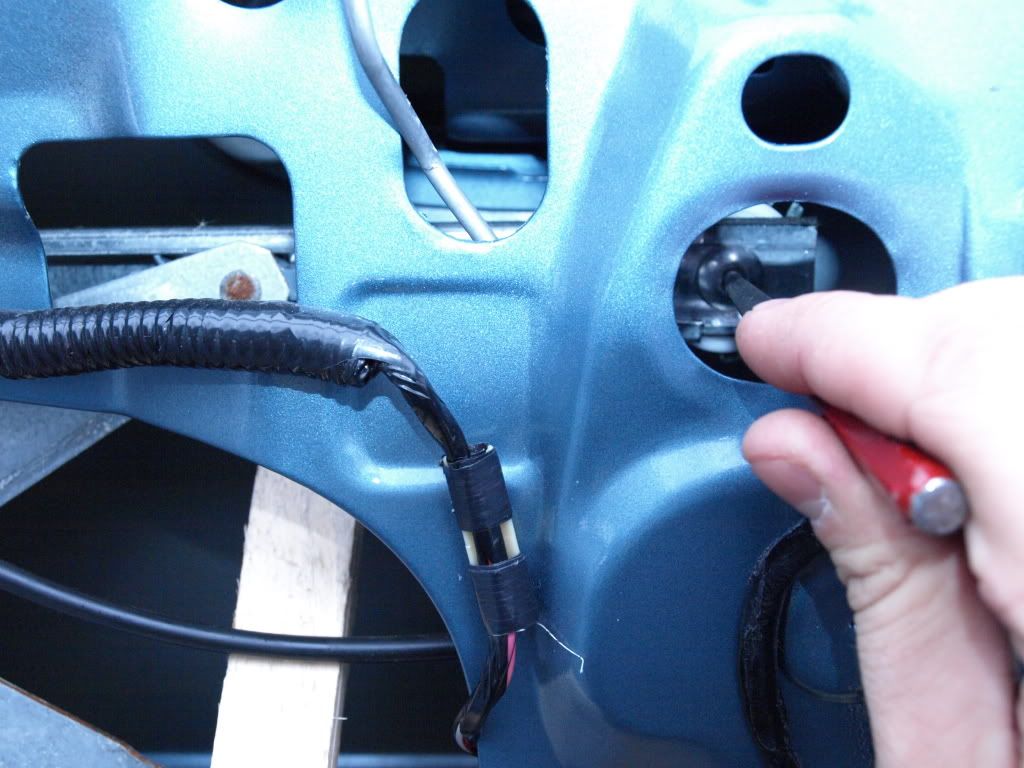 Step 5. Once rivet center is removed, Drill with 1/4 bit carefully, repeat on both sides:
Step 6. Remove window once rivets are removed (Or remains of old one with shop-vac
) Tilt window sideways to remove from door with the shorter end sticking into the door, longer edge coming out.
Step 7. Get ready to install new Window. Tilt window sideways, once window is fully into the door, then correct and shove the window against the window guide (Longer side to the support). Then have friend hold in place, and align the holes for the window regulator and window.
Step 8. Once aligned, insert bolts, I put it in so the bolt comes from the outside to inside.
Then use a box wrench to hold still to add nut, and socket wrench to tighten.
Do not tighten until everything looks good. Then tighten gently, not too tight, don't wanna crush your new window.
Once installed, test it gently (push the button every so often to ensure it goes smoothly, then do a full sweep)
If you had your window smashed, ensure the track has no glass in it, this will prevent proper operation.
Then once all done, enjoy your new window
It took about 1 hour to harvest a window from junkyard, and about 2 hours to clean up the doors, and install both sides. Be through with vacuuming, closing the door hard also helps shake some glass to the floor, to vacuum.
I hope nobody ever has to use this howto on replacing a smashed window, but, it's there when needed
Props to Brian_05_SEL for helping, going to junkyards in the middle of winter, last minute sucks, and to have a friend take a day off of work to help put a new window in, so I can goto work myself without bags covering the window, and worrying about holding up in the winter, helps. Thanks a ton Brian, my Taurus and I both thank you for helping out
Side note, took her for a ride with the new windows, felt great. To be in a clean interior, windowed car. Don't realize how great windows are until you lose them... Driving from Tennessee to IL with no front windows = Sucks... (In Winter too
) 75 Mph with bags and tape... A very very annoying 7 hours on the road.
Replacing the window regulators is pretty similar, since they are too also riveted into the doors. Also, from what I am told, the back doors are fairly similar, however, Taurus and Sable rear door glass are not interchangeable. Taurus/Sable front Windows ARE Interchangeable.
This writeup was written in January, it has been 8 months so far with this install, and have yet to notice a single difference, and my windows still perform great with the nut/bolt setup.